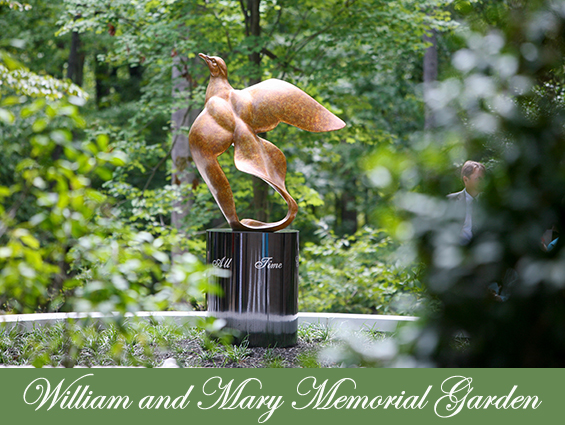 The William and Mary Memorial Garden was dedicated in November 2010 and serves as the final resting place for members of the William and Mary family. The garden is available to members of the William and Mary family and their immediate family members who wish to have their ashes interred. A plaque on the surrounding brick wall will commemorate each person whose ashes are placed in the garden. This memorial garden was made possible by private donations.
"
We ask that this be hallowed ground, set aside from the wider College campus. We pray for your sons and daughters who will come home at the last, at the end of their days, to a place where they have been happy. We pray for all who will come home to be laid to rest here, as to our mother's home once more, to the home of alma mater, the College of William and Mary."


- Reverand John Maxwell Kerr, Episcopal Campus Minister Bruton Parish Church
Alumni and friends wishing to pre-plan personal interment arrangements can do so by filling out the reservation form and remitting it with the full payment of $1,000 to the William and Mary Alumni Association. This charge includes site preparation, a 10" X 2" bronze plaque commemorating the deceased with name, class year, date of birth and date of death, and year-round maintenance of the Garden.
For more information about the William and Mary Memorial Garden, please contact Cindy Gillman, Administrator of the William and Mary Memorial Garden, at 757.221.1168 or
cbgill@wm.edu