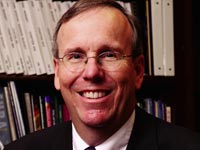 In fiscal year 1980, state support constituted 42.8 percent of William and Mary's operating budget. In fiscal year 2010, state support represents just 15.4 percent of the operating budget, and it is projected to drop to 12.4 percent by fiscal year 2012. At the same time, the College's costs — for instruction, student support, building maintenance and more — have continued to rise dramatically. As William and Mary faces new financial challenges, Alumni Magazine Assistant Editor Ben Kennedy '05 sat down for a conversation with the College's vice president for finance, Samuel E. Jones '75, M.B.A. '80.

President Reveley talks about the College as a "species of one." You can't find a lot of public, liberal arts research universities elsewhere.
You can't find any with the kind of faculty-student interaction that we have here. When you look at the institutions that are really most closely like William and Mary, they're private institutions. They have larger endowments and they charge a lot more tuition; their revenue streams are much stronger than ours.

The way we accomplish what we do here is by focusing more of our resources on the instructional side of the house, as opposed to the administrative and support side of the house. That's why we have a student-faculty ratio other public institutions don't have. The key is having enough faculty so that students can do undergraduate research and work closely with a faculty member. That's where we make the difference.
How is W&M able to retain its small size relative to other Virginia state universities?
It's one of the challenges. We're a very strong institution and we're a very popular institution. That's why you see folks in Richmond who will say, "We want you to admit more Virginians." We don't want to grow the institution to any great degree, because then we distort what we have here. We're in that balance: how can you grow, invest money to go along with that growth, but do it in a way that the fundamental nature of the university doesn't change? We're highly residential, which is very unusual for a public institution, so we do a lot of things differently here. We're very protective of that.
How would you describe your job?
I'm a budgeteer; I'm not an accountant. The most significant math I do is add, subtract, multiply, divide and calculate a percentage. It's all about allocating the resources to get what we want here done. Most of my thinking is about supporting the things that we need to do to generate money, and when we've got money, how do we make sure that it's going to the right places on campus?

An excellent example of this: The Cohens gave us a wonderful gift to build the Career Center. One of the things we asked student affairs was, "Do we need to add anything from a programming perspective to make sure that we use the facility effectively and meet the needs of the students?" We ended up adding two people. We didn't create the money to build it — somebody else did that — but if you didn't put the resources on the operating side behind it, it would be like we almost got there but we didn't.

The job wouldn't be much fun if it didn't have [the allocation] piece of it. I do this every year. I get to the endgame, and I say, "OK, did we either, in bad times, protect the institution as best we can, or in better times, move the institution forward?" If all that happens, I come away from that saying, "OK, that was a good year."
How did you end up in the finance arena?
I came to William and Mary as a government major, and remained one. However, I give credit to my father who suggested I also take economics. Thirty-six credits later and I was hooked. After a few years in retail, I took a job as a research assistant doing revenue forecasting with the Virginia Department of Taxation and came back to William and Mary to get my M.B.A. After that, things just seemed to evolve.

When I started this position in 1986, I came out of Richmond, from the department of planning and budget. There are still people I worked with in Richmond — 25 years later — who were my colleagues when I was there. That carries a benefit.
How would your college-age self react to learning you were the CFO for William and Mary?
That guy would not be surprised that I am in education. Being in finance — also not a surprise, given my interest in economics. Being at William and Mary — a total surprise. My wife [Julie Reynolds Jones '76] and I built a house out in New Kent County in the later '70s. A few years later, we were both working in Richmond and decided to move. Before we moved, Julie asked me if I ever thought we would get back to Williamsburg and I said no. Just shows what I knew: by 1986, I was back on campus.
What does the job mean to you as an alumnus?
I never would have envisioned being in this position. It puts another burden on you because you're not only protecting the institution; you're protecting your institution. I'm standing in for all the other alumni out there who expect William and Mary to continue to be what they knew it to be.

In your time at the College, what is the most significant change you've seen on campus?
It is exciting to see the classes of the '70s and '80s come into their own and match the leadership provided by the classes from the '50s and '60s. The recent Alumni Medallion ceremony was a perfect example — alumni from the '50s through the '80s were recognized for their accomplishments in support of the College and their communities. One couldn't help but be inspired.
How do you explain the decrease in state funding over the last 25 years?
It's a continuing saga, so to speak. It still surprises us that people don't understand that trend, because we live it day-to-day. When I came here in '86, the state did have money. I remember the first set of budget requests we put in. We put in 11, and we got nine funded. Today you wouldn't put in 11 requests in this kind of funding environment, and you'd never get 90 percent of them funded.

[The trend of decreasing state support] isn't just at William and Mary. It's across all the public institutions in the country. The numbers are different, but the trends are the same: less state investment on a per-student basis, less state investment on a total budget basis. Everyone is becoming more tuition-dependent.
How would you respond to the calls for privatization?
I like to say that we can't unilaterally disarm. We are a state entity. The state would have to let us go private. And if you think about it, why would the state have any incentive to do that? We are a very valuable piece of the state system. If you were a politician, would you make a deal that said, "OK, William and Mary, we'll let you go private, knowing that you're going to admit fewer of my constituents and charge the ones you do admit more?"

Give [Virginia] credit: we have lots of new buildings, most of which they are paying for or helping to pay for. And the $40 million or so that the state is investing is equivalent to a $2 billion endowment. Our endowment now is just over $500 million. It's still significant money and important money to the institution.
But the state capital program creates maintenance costs that come from W&M's main budget.
We have been fortunate to open up three major buildings over the last four years: the Integrated Science Center, the Business School [Alan B. Miller Hall], the School of Education. Each one of those has million-dollar-plus operating costs, which we as an institution had to absorb. This effectively means we had to raise tuition in order to do that. Because while we were absorbing those costs, we were cutting budgets because the state was reducing its support.

There's no incentive for us to raise tuition just to raise tuition. We're raising tuition to invest in the institution and to invest in the people of the institution — to make the institution better to give students a better education. That's the dynamic.
Given today's political climate, what is the status of the Restructured Higher Education Financial and Administrative Operations Act from 2005? [Editor's Note: This act was designed to increase accessibility to Virginia's state institutions and guide alignments with statewide goals and agencies. A 2006 amendment gave special administrative rights to W&M, Virginia Tech and the University of Virginia.]
Restructuring was intended to do a number of things. Some of it was to give us administrative flexibility in the things we do. We created our own human resources system. On the capital outlay side, we're able to build projects faster because we do a lot of the review work here locally that used to be done in Richmond. So on the administrative piece, we made some progress.

The state just passed a new Higher Education Opportunity Act that sort of replaces restructuring, but doesn't completely. It replaces some aspects and gives some additional guidance. And it reaffirms that boards of visitors have the authority to set tuition and fees. If you're a private institution, you look at the market, the demand and the sticker price. Then you look at the amount of financial aid to get to a net price. That's how you manage that. We have another dimension. We have all those factors, plus how it works within the political, public environment of the College.
As we look at the coming end of federal stimulus money and the last round of state budget cuts, how will the College change in response?
I think we're always sharpening the focus a little bit. We're looking for other sources of revenue, but within the context of what William and Mary is. It's challenging to do that.

I think what we've done pretty well here is always keeping a longer-term view. As tough as the current times have been, as I like to tell people, the priorities of the College don't change whether we're cutting budgets or whether we're adding money.

One of the things we've found in the recent strategic planning exercise is that everyone — from the students to the alumni to the faculty and staff — likes what we're doing. There's a tension to the mix of being a liberal arts college and a research university. It's one of the stresses on our system to try to be both. As we allocate money and try to raise money, we've got to keep that tension in balance.
Other than private giving, what can people do to help the College?
Well, it starts off with the "time, talent and treasures" kind of approach. What we have found is that our best supporters have talents they bring to the table across the institution. All of that takes time. It requires people to say, "You know, [W&M] is a higher priority."
We look at the Richmond side of things: talking to legislators and letting them know that William and Mary is important and support for higher education is important. Particularly Virginia citizens — they're the ones who are more likely to know those legislators and talk to them. Folks should just remind the legislators that they want an institution like William and Mary; it is different than your normal public university.

What should our readers know that they don't already know?
We're doing everything we can to protect the William and Mary that they know and love. That gives me chills when I say it.

When students come to visit me, no matter what we're talking about, I always ask them at the end: "You've got the top finance guy — if there's anything you want to tell me other than 'fix parking,' I'd like to hear that. You came here expecting something from William and Mary, did you get it?" Virtually all of them say, "It's what I thought it was going to be. It's hard, it's rewarding."

I'm optimistic — we know where we're trying to get to. We may be having a funding crisis, but we're not having an identity crisis, and that's really important.
Photo by Stephen Salpukas at the College of William and Mary