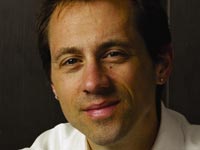 Mark Mitchell
Christopher Del Negro, associate professor of applied science, remembers the moment in 2005 where his research -- into the neural control of respiration -- became even more than a formidable academic pursuit.

"I had a premature son born in 2005. ... I was sitting there in the delivery room, watching my son stop breathing for a while," he says. "I would flick his chest and he'd start breathing again. It's a very real problem."

Del Negro's son, Gaius, is healthy now and enjoys playing in the pool with his father and his mother, Heather, but his experience in that hospital lent new motivation to dad's work, which is directly relevant to preventing sudden infant death syndrome as well as sleep apnea in adults.

"Until I had my son, I would research it because of the intellectual challenge; it seemed like a great problem to me," he says. "But after having my baby and seeing him not breathe, I said, 'Yeah, I really believe this is important. I can really do something here.'"

After living for a year in Jamaica and studying exercise physiology and neuroscience in Southern California, Del Negro worked on the lower brain centers that control the basic movements of the mouth. Following his Ph.D., he began searching for the origins of breathing rhythm within the context of neuroscience.

As a member of the applied science faculty, Del Negro is one of nine core faculty with widely varied research interests. Applied science professors tackle diverse topics like lasers, robotics and epidemiology with the goal of furthering research-focused graduate education at William and Mary.

Del Negro in particular is focused on the specific networks of brain cells that regulate breathing in mammals. A few undergraduates also get involved, even though the material is by its nature interdisciplinary and at a graduate level -- challenging for undergraduates, and rewarding for professors like Del Negro.

"My philosophy is to prepare the upper division students on this campus for their next experience, be it medical school or Ph.D.-level education," he says. "I'm trying to expose them to the type of approach they're going to need on their next mission."

Del Negro, a marathon runner, also travels frequently to collaborate with colleagues at other universities, often delivering lectures to spread the word about his work and that of the students in his lab. By disseminating their work along with his, Del Negro is helping to build a network of scholars in his field.

"You can be in your lab doing the best research in the world, but if nobody knows about it, it's going nowhere," he says. "Giving lectures and sharing findings deepens the content of my own research and my own knowledge and expertise. I think it ultimately brings a more well-informed and better professor back to the classroom."

And on a campus where interdisciplinary majors like neuroscience are becoming more popular, Del Negro's enthusiasm for his work -- and the knowledge of its vast importance -- can only do good things for the discipline.

"As a neuroscientist, the explanation that I seek to explain the origin of a behavior doesn't involve black boxes with mysteries in the middle," he says. "I look at it as lifting up the hood on behavior."
Christopher Del Negro | Robert S. Leventhal | Robin Looft-Wilson
Paul F. Manna | Kam W. Tang