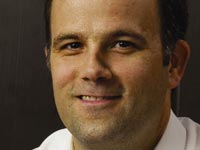 Mark Mitchell
Two years ago, Paul Manna abandoned PowerPoint and never looked back.

"It sort of dawned on me one day that there was a lot of good stuff in the readings that we were never really getting to," he says. "I thought, well, what if I just create more space for that in the class itself? ... I think it broadens who's able to get involved and it doesn't require them to have some knowledge about the topic that I'm only introducing for two minutes in class."

Manna's classes and research tackle the idea of policy implementation and federalism -- the governmental interplay between Washington, D.C., and the 50 states. To do so, he uses education as a relevant example.

"One of the things I try to do is think in some of the broader theoretical terms, using the concepts that political scientists use as a way to understand what's going on in education," he says. "I ask, 'What does this particular policy area say more generally about implementation? What does this thing say in general about the federal government's ability to hold lower levels of government accountable for performance?'"

Manna's teaching style also makes it easy for students to get feedback on their performance in class. By making his standards clear and making himself available to discuss work with students, he improves the classroom experience for each student.

"I rarely have students come into my office and complain or question a grade," says Manna, who suggests room for improvement on each paper, then provides the student with more specific suggestions. "They can see my signals on their work on what they need to do better. Then, hopefully, I give them strategies on how to improve for the next time."

Some of the personal attention -- as well as the interest in education policy -- can be explained by Manna's first career: high school social studies teacher. After returning to his high school alma mater in Traverse City, Mich., for a few years to teach economics and history, Manna decided to go back to school and get his Ph.D.

Occasionally, though, first-year students are too quick to reach back to their own experience in primary and secondary school and Manna has to joke: "People who teach other classes don't have this problem. If this were a freshman seminar on nuclear weapons, nobody's going to be able to say 'Well, back in my hometown, the way we did nuclear negotiations was ...'"

Manna's current projects include a book about the implementation of No Child Left Behind and a project on education governance. His first book, School's In, dealt with how interactions between the federal government and the states have influenced education policy at both levels. Between his dedication to his students and his research, Manna believes that Williamsburg is a good fit for him, his wife, Lisa, and their 1-year-old son, Theo.

"I think it's fair to say that if you were just a great researcher, but a horrible teacher, you probably wouldn't make it here," he says. "At the same time, if you were just a great teacher but you didn't have an active scholarly agenda of your own, I don't think you would make it either. There's this idea that you need to be doing both. It fits me well because I like to do both. I'm glad I'm at a place where they both count."
Christopher Del Negro | Robert S. Leventhal | Robin Looft-Wilson
Paul F. Manna | Kam W. Tang