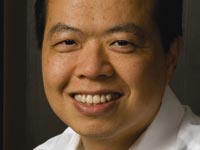 Mark Mitchell
Kam Tang has chased some of nature's smallest organisms across some of the world's longest distances. On one hand, you have all the various types of plankton: microscopic organisms that form the basis of the ocean's food web. On the other, you have the thousands of miles between Tang's home in Hong Kong and his academic pursuits in Connecticut, Denmark and Virginia.
Now a professor at William and Mary's Virginia Institute of Marine Science, Tang works with graduate students and other colleagues to investigate these tiny but vitally important organisms.

"I found it very interesting because oftentimes it's easier to think of large organisms like big animals and big plants. Things that we are familiar with are more intuitive," he says. "But when you consider the very small organisms, a lot of their behaviors, life histories and ecological functions are not as intuitive as the bigger things. It takes a lot more imagination to really understand what is going on in the microscopic world."

Unlike most of his colleagues on the undergraduate campus, Tang advises graduate students on the VIMS campus at Gloucester Point, Va. Most of his teaching is one on one: outside the classroom, in the laboratory or his office. Taking after his mentors in his master's and Ph.D. programs and his postdoctoral research, he sees his role as helping his students access resources and giving them advice when they need it.

"I was very fortunate to have very good advisors. These three mentors have been very important in my academic career, so basically I try to follow their style and how they mentored me," he says. "I try to let my students have as much freedom as possible to create and to learn actively. I stay on the sideline and try not to interfere with their creation too much."

Tang has a history of helping students become comfortable in their surroundings. While a doctoral student at the University of Connecticut, he learned quickly that foreign students often need help adjusting to a new environment.

"When I was in Connecticut, I learned from my own experience how difficult it would be for foreign students to get settled and feel comfortable," he says. "Fortunately we had other foreign students in the department and we formed our own support network. I got some help from the other foreign students and tried to make an effort to help others.

"After that, I had become used to the idea of living in a new place and exposing myself to a new culture," he says. "Then, actually, I liked the adventure. When I moved from the U.S. to Denmark it was basically easy for me."

While in Denmark, Tang accepted the position at VIMS, a great place for marine scientists because of its location and its resources. Tang cites the Chesapeake Bay location and varied faculty research interests as two things that make it attractive.

"One thing we always emphasize here is interdisciplinary research. I think we have the capability to do that because we have so many scientists doing different things with different areas of expertise," he says. "The students are in a really good position to create an interdisciplinary research project."

In the classroom, however, Tang is always careful to explain the fundamentals of a topic before diving into the data sets. If a student has a question, he will stick around to try and answer it -- no matter how small the question or how long it takes.
Christopher Del Negro | Robert S. Leventhal | Robin Looft-Wilson
Paul F. Manna| Kam W. Tang