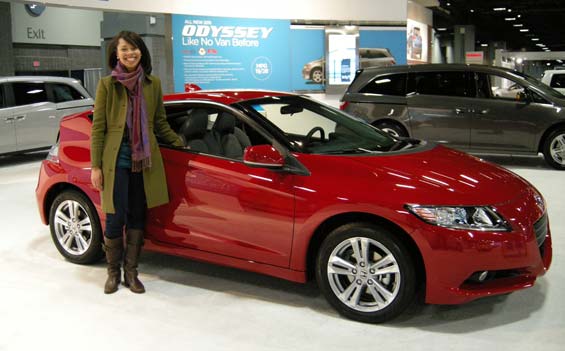 Rachel Smith '10: Driving into the future

BY ERIC W. PESOLA
April 7, 2011
It's something that nearly all of us must use on a daily basis, and something that some of us really enjoy. Its introduction into mass production changed our society, and is often the reason why perfectly normal people lose control of themselves on "The Price Is Right." Like it or not, the automobile has woven itself into American life, and it will always be an important part of the way we live. It is cars, trucks and SUVs that Rachel Smith '10 toils to review and write about.
"The main thing that I do is write car reviews," says Smith of her job at U.S. News. "Our four editors are responsible for different classes of cars, and I cover affordable small cars, upscale small cars, compact SUVs and their luxury counterparts. I also cover important news in the industry such as vehicle recalls, new models and safety regulations. Recently, I wrote an article about how more people 'web and drive,' or use the Internet on their smartphone while they're behind the wheel. Everything we do is consumer focused."
"One of the least expensive cars I cover is the Hyundai Accent, which costs less than $10,000. The most expensive cars that I cover would be an Audi, BMW or Mercedes, the low-end models that cost around $35,000."
Her job at U.S. News in Washington, D.C., started as an internship, which was supposed to last until August 2011, but in December 2010, four months after she started, the management decided to hire her as a full-time editor.
"U.S. News does all sorts of rankings. That's what we want to brand ourselves as — a rankings publication. For example, these rankings allow students looking for the best colleges and shoppers looking for affordable small cars learn about the most well-respected schools in the country and the best cars in the industry," says Smith.
Smith describes her job in terms that most college graduates can easily understand.
"Basically, we write a research paper on the cars in our classes," says Smith. "We have a system called CMS where we log articles automotive editors have written. So, if Car and Driver has done a review on the Honda Fit, and a number of other people have, we log those articles into the database. We score and quote the reviews that we get, and use that information to write a review."
"For example, most reviewers say that the Honda Fit has a lot of interior space. So, we'll note that. But if one reviewer says that they found the rear seats cramped, then we'll add that too. This helps consumers have a collective view of what the industry is saying about different cars."
Most of the time, this data analysis makes up what one might expect on the U.S. News car site. Smith says that she doesn't get to drive all the vehicles she covers., but a few test drives have influenced her write-ups. Usually, she adds important information reviewers haven't mentioned in their articles.
"I tested the Honda CR-Z last fall," says Smith. "It's ranked lowly in my class, and reviewers think it's impractical because it fits only two people, the cargo space is really small and it's branded as a 'sports-hybrid,' which is sort of an oxymoron. Most sports cars have poor fuel economy, and hybrids are not known for their performance."
"But, this is one of the best performing hybrids on the market, though certainly not the best performing sports car. It's so small and super-easy to park in the city. For me, it had just enough power, and the fuel economy was really good, especially when you compare it to to what most shoppers are used to. When I drove the CR-Z, I tried really hard to get it past the half-gallon mark, but when I returned it, it was still at a half-tank."
The Honda bucked the trend with Smith, as she enjoyed that small car. Her most enjoyable drive yet was a larger, more luxurious ride.
"I drove the Audi Q5, which is a compact SUV, and that car is awesome," says Smith. "The brakes were strong, the interior was fantastic and really comfortable. The only problem was that it had too many features inside. It had a lot of buttons on the dashboard, and it had a digital screen near the odometer, which gave directions, provided fuel economy data and listed radio stations. There was so much going on that I got distracted."
This over-abundance of gadgets seems to be a trend with vehicles produced in the last few years, but Smith points out that automakers are simply giving the public what they want.
"People really want high-tech features, like Bluetooth, which is common even in affordable cars," says Smith. "No one really looks at what a distraction they have become. But, it may only be a matter of the driver shutting off some of the features so he can focus."
Another interesting trend of late is the surge in rankings of domestic automakers, most notably Ford, who owns the top position in many of the U.S. News car ranking categories. Smith offers her perspective on this as well.
"My theory is that Toyota and Honda are coasting on their reputation for making quality, reliable cars," says Smith. "That means they don't have to revamp their styling or offer standard Bluetooth, which is what other automakers are doing, because they have a strong consumer following."
"But Ford, and foreign brands like Hyundai and Kia, have revamped their lineups to make them competitive with Honda and Toyota's products. Now people look at Hyundais and their modern exteriors, generous features lists and realize that they can get a lot for their money. There might be a point where Honda and Toyota take a back seat, and automakers like Kia and Ford will take their place."
While at William and Mary, Smith double-majored in linguistics and sociology, and feels that her job at U.S. News is a perfect way to blend her passion for service and her love for communications.
"I had never considered writing about cars," admits Smith. "I never read Car and Driver or Automobile Magazine, but the more I do, the more I like it. Since I cover models most people can afford, I help average Americans find the best cars for their money and their lifestyles. I started out [at internships] with nonprofit work, and recently, I realized that what I do now relates to what I did as an intern. Nonprofits help their clients with a particular need.
"Helping consumers find a car isn't that different than getting funding for educational programs in my community. Most everyone owns a car, and I help consumers, my clients, find the perfect car for their families and their budgets. It's the non-profit aspect of what I do."
Smith says that for her, writing and editing has always been one of her passions, and she really enjoys working with her team. She also says that her days in D.C. are often filled with introductions and the chance to reconnect with fellow William and Mary graduates in the area.
"I found out about this job through a William and Mary graduate, and I want to be able to do that for someone who graduates a few years after me," says Smith. "It's encouraging to know that students who have graduated from the College go out into the world and do what they've always wanted to do."
Photo courtesy of the Rachel Smith '10