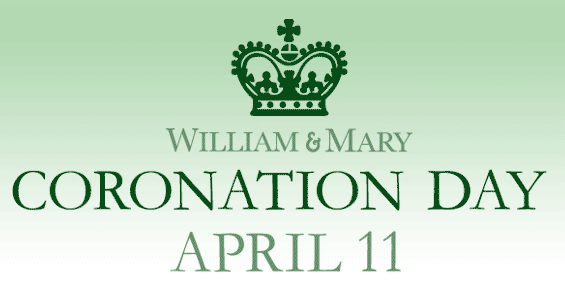 April 11, 1689 was coronation day for King William and Queen Mary. Four years later, they chartered a "certain place of universal study" that was "called and denominated forever, the College of William and Mary."

On April 11, 2010, please help us celebrate the beginning of the beginning, at a time when admitted students across the commonwealth and around the world will be weighing their decision about where to spend their next four years. The alumni chapters listed below will host admitted students events, and we hope that you can join them to answer the students' and their parents' questions and show them how special the William and Mary community is.
All alumni are encouraged to break out their W&M T-shirts, ties, hats, class rings and pins on Monday, April 12. Show your colleagues and the world what Tribe Pride is all about. As the campus prepares to welcome its Class of 2014, show our newly admitted students and their families what Tribe Pride means.
Celebrate Coronation Day. Raise the green and gold. Let's show admitted students that William and Mary is for life.